Staff at EMBL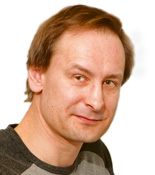 Dr. Victor Lamzin
Deputy Head of Outstation and Senior Scientist
Lamzin Group
EMBL Hamburg c/o DESY, Notkestraße 85, 22603 Hamburg, Germany
Biography
PhD 1987, Moscow State University.
Scientist, Inst. Biochemistry, Russian Academy of Sciences, Moscow, until 1991.
Postdoctoral research at EMBL Hamburg until 1995.
Staff scientist until 1997.
Group leader and Deputy Head of Outstation since 1997.
Publications
Role of kappa-->lambda light-chain constant-domain switch in the structure and functionality of A17 reactibody. Ponomarenko, N., Chatziefthimiou, S.D., Kurkova, I., Mokrushina, Y., Mokrushina, Y., Stepanova, A., Smirnov, I., Avakyan, M., Bobik, T., Mamedov, A., Mitkevich, V., Belogurov A, J.r, Fedorova, O.S., Dubina, M., Golovin, A., Lamzin, V., Friboulet, A., Makarov, A.A., Wilmanns, M. & Gabibov, A. Acta Crystallogr D Biol Crystallogr. 2014 Mar;70(Pt 3):708-19. doi:10.1107/S1399004713032446. Epub 2014 Feb 15. Europe PMC
Identification of additional telomerase component of the yeast H. polymorpha is a step towards understanding the complex at the atomic level. Petrova, O.A., Smekalova, E.M., Zvereva, M.E., Lamzin, V. & Dontsova, O.A. Dokl Biochem Biophys. 2014 Mar;455(1):59-64. doi: 10.1134/S1607672914020057. Epub2014 May 3. Europe PMC
Visual automated macromolecular model building. Langer, G.G., Hazledine, S., Wiegels, T., Carolan, C. & Lamzin, V.S. Acta Crystallogr D Biol Crystallogr. 2013 Apr;69(Pt 4):635-41. doi:10.1107/S0907444913000565. Epub 2013 Mar 14. Europe PMC
Internal structure of an intact Convallaria majalis pollen grain observed with X-ray Fresnel coherent diffractive imaging. Mancuso, A.P., Groves, M.R., Polozhentsev, O.E., Williams, G.J., McNulty, I., Antony, C., Santarella-Mellwig, R., Soldatov, A.V., Lamzin, V., Peele, A.G., Nugent, K.A. & Vartanyants, I.A. Opt Express. 2012 Nov 19;20(24):26778-85. doi: 10.1364/OE.20.026778. Europe PMC
Purification, biochemical characterization, and structure of recombinant endo-1,4-beta-xylanase XylE. Fedorova, T.V., Chulkin, A.M., Vavilova, E.A., Maisuradze, I.G., Trofimov, A.A., Zorov, I.N., Khotchenkov, V.P., Polyakov, K.M., Benevolensky, S.V., Koroleva, O.V. & Lamzin, V.S. Biochemistry (Mosc). 2012 Oct;77(10):1190-8. doi: 10.1134/S0006297912100112. Europe PMC
Fragmentation-tree density representation for crystallographic modelling of bound ligands. Langer, G.G., Evrard, G.X., Carolan, C.G. & Lamzin, V.S. J Mol Biol. 2012 Jun 8;419(3-4):211-22. doi: 10.1016/j.jmb.2012.03.012. Epub 2012Mar 23. Europe PMC
Use of noncrystallographic symmetry for automated model building at medium to low resolution. Wiegels, T. & Lamzin, V.S. Acta Crystallogr D Biol Crystallogr. 2012 Apr;68(Pt 4):446-53. doi:10.1107/S0907444911050712. Epub 2012 Mar 16. Europe PMC
Aspartate aminotransferase: bridging carbohydrate and energy metabolism in Plasmodium falciparum. Wrenger, C., Muller, I.B., Silber, A.M., Jordanova, R., Lamzin, V.S. & Groves, M.R. Curr Drug Metab. 2012 Mar;13(3):332-6. Europe PMC
Crystal structure of D-serine dehydratase from Escherichia coli. Urusova, D.V., Isupov, M.N., Antonyuk, S., Kachalova, G.S., Obmolova, G., Vagin, A.A., Lebedev, A.A., Burenkov, G.P., Dauter, Z., Bartunik, H.D., Lamzin, V.S., Melik-Adamyan, W.R., Mueller, T.D. & Schnackerz, K.D. Biochim Biophys Acta. 2012 Mar;1824(3):422-32. doi: 10.1016/j.bbapap.2011.10.017.Epub 2011 Nov 27. Europe PMC
ARP/wARP - automated model building and refinement. Lamzin, V.S., Perrakis, A. & Wilson, K.S. In "International Tables for Crystallography. Volume F: Crystallography of biological macromolecules" (Arnold, E., Himmel, D.M. & Rossmann, M.G. eds.), 2nd edition, 2012, ISBN: 978-0-470-66078-2, Dordrecht, Kluwer Academic Publishers, The Netherlands, pp. 525-528.
On the routine use of soft X-rays in macromolecular crystallography. Part V. Molecular replacement and anomalous scattering. Unge, J., Mueller-Dieckmann, C., Panjikar, S., Tucker, P.A., Lamzin, V.S. & Weiss, M.S. Acta Crystallogr D Biol Crystallogr. 2011 Aug;67(Pt 8):729-38. Epub 2011Jul 12. Europe PMC
Crystal structure of small protein crambin at 0.48 Å resolution. Schmidt, A., Teeter, M., Weckert, E. & Lamzin, V.S. Acta Crystallogr Sect F Struct Biol Cryst Commun. 2011 Apr 1;67(Pt4):424-8. Epub 2011 Mar 24. Europe PMC
A moment invariant for evaluating the chirality of three-dimensional objects. Hattne, J. & Lamzin, V.S. J R Soc Interface. 2011 Jan 6;8(54):144-51. Epub 2010 Aug 4. Europe PMC
Quantitive evaluation of macromolecular crystallization experiments using 1,8-ANS fluorescence. Watts, D., Muller-Dieckmann, J., Tsakanova, G., Lamzin, V.S. & Groves, M.R. Acta Crystallogr D Biol Crystallogr. 2010 Aug;66(Pt 8):901-8. Epub 2010Jul 10. Europe PMC
Internal motion in protein crystal structures. Schmidt, A. & Lamzin, V.S. Protein Sci. 2010 May;19(5):944-53. Europe PMC
On the combination of molecular replacement and single-wavelength anomalous diffraction phasing for automated structure determination. Panjikar, S., Parthasarathy, V., Lamzin, V.S., Weiss, M.S. & Tucker, P.A. Acta Crystallogr D Biol Crystallogr. 2009 Oct;65(Pt 10):1089-97. Epub 2009Sep 16. Europe PMC
Interpretation of very low resolution X-ray electron-density maps using core objects. Heuser, P., Langer, G.G. & Lamzin, V.S. Acta Crystallogr D Biol Crystallogr. 2009 Jul;65(Pt 7):690-6. Epub 2009Jun 20. Europe PMC
High-resolution structural analysis of a novel octaheme cytochrome c nitrite reductase from the haloalkaliphilic bacterium Thioalkalivibrio nitratireducens. Polyakov, K.M., Boyko, K.M., Tikhonova, T.V., Slutsky, A., Antipov, A.N., Zvyagilskaya, R.A., Popov, A.N., Bourenkov, G.P., Lamzin, V.S. & Popov, V.O. J Mol Biol. 2009 Jun 26;389(5):846-62. Epub 2009 Apr 23. Europe PMC
Structure of native laccase from Trametes hirsuta at 1.8 A resolution. Polyakov, K.M., Fedorova, T.V., Stepanova, E.V., Cherkashin, E.A., Kurzeev, S.A., Strokopytov, B.V., Lamzin, V.S. & Koroleva, O.V. Acta Crystallogr D Biol Crystallogr. 2009 Jun;65(Pt 6):611-7. Epub 2009May 15. Europe PMC
Crystal identification and classification Jordanova, R., Lamzin, V.S. & Groves, M. Horizons in World Physics: Vol. 262, Astrophysics and Condensed Matter, (Hardwell, T.G. ed.), pp. 175-193, Nova Science Publishers Inc. (2009)
Atomic resolution crystal structures and quantum chemistry meet to reveal subtleties of hydroxynitrile lyase catalysis. Schmidt, A., Gruber, K., Kratky, C. & Lamzin, V.S. J Biol Chem. 2008 Aug 1;283(31):21827-36. Epub 2008 Jun 4. Europe PMC
Pattern-recognition-based detection of planar objects in three-dimensional electron-density maps. Hattne, J. & Lamzin, V.S. Acta Crystallogr D Biol Crystallogr. 2008 Aug;64(Pt 8):834-42. Epub 2008Jul 17. Europe PMC
Crystal structure of YagE, a putative DHDPS-like protein from Escherichia coli K12. Manicka, S., Peleg, Y., Unger, T., Albeck, S., Dym, O., Greenblatt, H.M., Bourenkov, G., Lamzin, V.S., Krishnaswamy, S. & Sussman, J.L. Proteins. 2008 Jun;71(4):2102-8. Europe PMC
A knowledge-driven approach for crystallographic protein model completion. Joosten, K., Cohen, S.X., Emsley, P., Mooij, W., Lamzin, V.S. & Perrakis, A. Acta Crystallogr D Biol Crystallogr. 2008 Apr;64(Pt 4):416-24. Epub 2008Mar 19. Europe PMC
ARP/wARP and molecular replacement: the next generation. Cohen, S.X., Ben Jelloul, M., Long, F., Vagin, A., Knipscheer, P., Lebbink, J., Sixma, T.K., Lamzin, V.S., Murshudov, G.N. & Perrakis, A. Acta Crystallogr D Biol Crystallogr. 2008 Jan;64(Pt 1):49-60. Epub 2007Dec 5. Europe PMC
Automated macromolecular model building for X-ray crystallography using ARP/wARP version 7. Langer, G., Cohen, S.X., Lamzin, V.S. & Perrakis, A. Nat Protoc. 2008;3(7):1171-9. Europe PMC
A Tutorial for Learning and Teaching Macromolecular Crystallography. A. Faust, S. Panjikar, U. Mueller, V. Parthasarathy, A. Schmidt, Lamzin, V.S. & Weiss, M. J. Appl. Cryst. 2008 41 1161-1172
From atoms to proteins. Schmidt, A. & Lamzin, V.S. Cell Mol Life Sci. 2007 Aug;64(15):1959-69. Europe PMC
High-resolution structures of formate dehydrogenase from Candida boidinii. Schirwitz, K., Schmidt, A. & Lamzin, V.S. Protein Sci. 2007 Jun;16(6):1146-56. Europe PMC
Structural evidence for a ligand coordination switch in liver alcohol dehydrogenase. Meijers, R., Adolph, H.W., Dauter, Z., Wilson, K.S., Lamzin, V.S. & Cedergren-Zeppezauer, E.S. Biochemistry. 2007 May 8;46(18):5446-54. Epub 2007 Apr 13. Europe PMC
Assessment of automatic ligand building in ARP/wARP. Evrard, G.X., Langer, G.G., Perrakis, A. & Lamzin, V.S. Acta Crystallogr D Biol Crystallogr. 2007 Jan;63(Pt 1):108-17. Epub 2006Dec 13. Europe PMC
Automated detection and centring of cryocooled protein crystals. Pothineni, S.B., Strutz, T. & Lamzin, V.S. Acta Crystallogr D Biol Crystallogr. 2006 Nov;62(Pt 11):1358-68. Epub 2006Oct 18. Europe PMC
X-ray structural studies of the fungal laccase from Cerrena maxima. Lyashenko, A.V., Bento, I., Zaitsev, V.N., Zhukhlistova, N.E., Zhukova, Y.N., Gabdoulkhakov, A.G., Morgunova, E.Y., Voelter, W., Kachalova, G.S., Stepanova, E.V., Koroleva, O.V., Lamzin, V.S., Tishkov, V.I., Betzel, C., Lindley, P.F. & Mikhailov, A.M. J Biol Inorg Chem. 2006 Nov;11(8):963-73. Epub 2006 Aug 30. Europe PMC
Purification, crystallization and preliminary X-ray study of the fungal laccase from Cerrena maxima. Lyashenko, A.V., Zhukhlistova, N.E., Gabdoulkhakov, A.G., Zhukova, Y.N., Voelter, W., Zaitsev, V.N., Bento, I., Stepanova, E.V., Kachalova, G.S., Koroleva, O.V., Cherkashyn, E.A., Tishkov, V.I., Lamzin, V.S., Schirwitz, K., Morgunova, E.Y., Betzel, C., Lindley, P.F. & Mikhailov, A.M. Acta Crystallograph Sect F Struct Biol Cryst Commun. 2006 Oct 1;62(Pt10):954-7. Epub 2006 Sep 19. Europe PMC
X-ray diffraction study of the complex of the enzyme SAICAR synthase with the reaction product Urusova, DV; Levdikov, VM; Antonyuk, SV; Grebenko, AI; Lamzin, V.S.; Melik-Adamyan, VR. Crystallography Reports October 2006 51(5)
How to avoid premature decay of your macromolecular crystal: a quick soak for long life. Kauffmann, B., Weiss, M.S., Lamzin, V.S. & Schmidt, A. Structure. 2006 Jul;14(7):1099-105. Europe PMC
Crystallization and preliminary X-ray analysis of cytochrome c nitrite reductase from Thioalkalivibrio nitratireducens. Boyko, K.M., Polyakov, K.M., Tikhonova, T.V., Slutsky, A., Antipov, A.N., Zvyagilskaya, R.A., Bourenkov, G.P., Popov, A.N., Lamzin, V.S. & Popov, V.O. Acta Crystallograph Sect F Struct Biol Cryst Commun. 2006 Mar 1;62(Pt3):215-7. Epub 2006 Feb 10. Europe PMC
Extraction of functional motion in trypsin crystal structures. Schmidt, A. & Lamzin, V.S. Acta Crystallogr D Biol Crystallogr 2005 Aug;61(Pt 8):1132-9. Epub 2005Jul 20. Europe PMC
Auto-Rickshaw: an automated crystal structure determination platform as an efficient tool for the validation of an X-ray diffraction experiment. Panjikar, S., Parthasarathy, V., Lamzin, V.S., Weiss, M.S. & Tucker, P.A. Acta Crystallogr D Biol Crystallogr 2005 Apr;61(Pt 4):449-57. Epub 2005Mar 24. Europe PMC
Modelling bound ligands in protein crystal structures. Zwart, P.H., Langer, G.G. & Lamzin, V.S. Acta Crystallogr D Biol Crystallogr 2004 Dec;60(Pt 12 Pt 1):2230-9. Epub2004 Nov 26. Europe PMC
Towards complete validated models in the next generation of ARP/wARP. Cohen, S.X., Morris, R.J., Fernandez, F.J., Ben Jelloul, M., Kakaris, M., Parthasarathy, V., Lamzin, V.S., Kleywegt, G.J. & Perrakis, A. Acta Crystallogr D Biol Crystallogr 2004 Dec;60(Pt 12 Pt 1):2222-9. Epub2004 Nov 26. Europe PMC
The crystal structure of glutamyl endopeptidase from Bacillus intermedius reveals a structural link between zymogen activation and charge compensation. Meijers, R., Blagova, E.V., Levdikov, V.M., Rudenskaya, G.N., Chestukhina, G.G., Akimkina, T.V., Kostrov, S.V., Lamzin, V.S. & Kuranova, I.P. Biochemistry 2004 Mar 16;43(10):2784-91. Europe PMC
The influence of positional errors on the Debye effects. Zwart, P.H. & Lamzin, V.S. Acta Crystallogr D Biol Crystallogr 2004 Feb;60(Pt 2):220-6. Epub 2004 Jan23. Europe PMC
Breaking good resolutions with ARP/wARP. Morris, R.J., Zwart, P.H., Cohen, S., Fernandez, F.J., Kakaris, M., Kirillova, O., Vonrhein, C., Perrakis, A. & Lamzin, V.S. J Synchrotron Radiat. 2004 Jan 1;11(Pt 1):56-9. Epub 2003 Nov 28. Europe PMC
Distance distributions and electron-density characteristics of protein models. Zwart, P.H. & Lamzin, V.S. Acta Crystallogr D Biol Crystallogr. 2003 Dec;59(Pt 12):2104-13. Epub 2003 Nov27. Europe PMC
Trypsin revisited: crystallography AT (SUB) atomic resolution and quantum chemistry revealing details of catalysis. Schmidt, A., Jelsch, C., Ostergaard, P., Rypniewski, W. & Lamzin, V.S. J Biol Chem. 2003 Oct 31;278(44):43357-62. Epub 2003 Aug 22. Europe PMC
Crystallization and preliminary X-ray analysis of a four-copper laccase from Coriolus hirsutus. Pegasova, T.V., Zwart, P., Koroleva, O.V., Stepanova, E.V., Rebrikov, D.V. & Lamzin, V.S. Acta Crystallogr D Biol Crystallogr. 2003 Aug;59(Pt 8):1459-61. Epub 2003 Jul 23. Europe PMC
The TB structural genomics consortium: a resource for Mycobacterium tuberculosis biology. Terwilliger, T.C., Park, M.S., Waldo, G.S., Berendzen, J., Hung, L.W., Kim, C.Y., Smith, C.V., Sacchettini, J.C., Bellinzoni, M., Bossi, R., De Rossi, E., Mattevi, A., Milano, A., Riccardi, G., Rizzi, M., Roberts, M.M., Coker, A.R., Fossati, G., Mascagni, P., Coates, A.R., Wood, S.P., Goulding, C.W., Apostol, M.I., Anderson, D.H., Gill, H.S., Eisenberg, D.S., Taneja, B., Mande, S., Pohl, E., Lamzin, V., Tucker, P., Wilmanns, M., Colovos, C., Meyer-Klaucke, W., Munro, A.W., McLean, K.J., Marshall, K.R., Leys, D., Yang, J.K., Yoon, H.J., Lee, B.I., Lee, M.G., Kwak, J.E., Han, B.W., Lee, J.Y., Baek, S.H., Suh, S.W., Komen, M.M., Arcus, V.L., Baker, E.N., Lott, J.S., Jacobs W, J.r, Alber, T. & Rupp, B. Tuberculosis (Edinb) 2003;83(4):223-49. Europe PMC
ARP/wARP and automatic interpretation of protein electron density maps. Morris, R.J., Perrakis, A. & Lamzin, V.S. Methods Enzymol. 2003;374:229-44. Europe PMC
Veni, vidi, vici - atomic resolution unravelling the mysteries of protein function. Schmidt, A. & Lamzin, V.S. Curr Opin Struct Biol 2002 Dec;12(6):698-703. Europe PMC
Advantages of high-resolution phasing: MAD to atomic resolution. Schmidt, A., Gonzalez, A., Morris, R.J., Costabel, M., Alzari, P.M. & Lamzin, V.S. Acta Crystallogr D Biol Crystallogr 2002 Sep;58(Pt 9):1433-41. Europe PMC
Atomic resolution data reveal flexibility in the structure of RNase Sa. Sevcik, J., Lamzin, V.S., Dauter, Z. & Wilson, K.S. Acta Crystallogr D Biol Crystallogr 2002 Aug;58(Pt 8):1307-13. Europe PMC
ARP/wARP's model-building algorithms. I. The main chain. Morris, R.J., Perrakis, A. & Lamzin, V.S. Acta Crystallogr D Biol Crystallogr 2002 Jun;58(Pt 6 Pt 2):968-75. Europe PMC
Domain closure, substrate specificity and catalysis of D-lactate dehydrogenase from Lactobacillus bulgaricus. Razeto, A., Kochhar, S., Hottinger, H., Dauter, M., Wilson, K.S. & Lamzin, V.S. J Mol Biol 2002 Apr 19;318(1):109-19. Europe PMC
Atomic (0.94A) Resolution Structure of an Inverting Glycosidase in Complex with Substrate. Guerin, D.M., Lascombe, M.B., Costabel, M., Souchon, H., Lamzin, V., Beguin, P. & Alzari, P.M. J Mol Biol 2002 Mar 8;316(5):1061-9. Europe PMC
Atomic resolution structures of ribonuclease A at six pH values. Berisio, R., Sica, F., Lamzin, V.S., Wilson, K.S., Zagari, A. & Mazzarella, L. Acta Crystallogr D Biol Crystallogr 2002 Mar;58(Pt 3):441-50. Europe PMC
Site-directed mutagenesis of the essential arginine of the formate dehydrogenase active centre. Galkin, A.G., Kutsenko, A.S., Bajulina, N.P., Esipova, N.G., Lamzin, V.S., Mesentsev, A.V., Shelukho, D.V., Tikhonova, T.V., Tishkov, V.I., Ustinnikova, T.B. & Popov, V.O. Biochim Biophys Acta 2002 Jan 31;1594(1):136-49. Europe PMC
The structures of Escherichia coli inorganic pyrophosphatase complexed with Ca(2+) or CaPP(i) at atomic resolution and their mechanistic implications. Samygina, V.R., Popov, A.N., Rodina, E.V., Vorobyeva, N.N., Lamzin, V.S., Polyakov, K.M., Kurilova, S.A., Nazarova, T.I. & Avaeva, S.M. J Mol Biol 2001 Nov 30;314(3):633-45. Europe PMC
ARP/wARP and molecular replacement. Perrakis, A., Harkiolaki, M., Wilson, K.S. & Lamzin, V.S. Acta Crystallogr D Biol Crystallogr 2001 Oct;57(Pt 10):1445-50. Europe PMC
Crystal structure of manganese catalase from Lactobacillus plantarum. Barynin, V.V., Whittaker, M.M., Antonyuk, S.V., Lamzin, V.S., Harrison, P.M., Artymiuk, P.J. & Whittaker, J.W. Structure. 2001 Aug;9(8):725-38. Europe PMC
Detailed analysis of RNA-protein interactions within the ribosomal protein S8-rRNA complex from the archaeon Methanococcus jannaschii. Tishchenko, S., Nikulin, A., Fomenkova, N., Nevskaya, N., Nikonov, O., Dumas, P., Moine, H., Ehresmann, B., Ehresmann, C., Piendl, W., Lamzin, V., Garber, M. & Nikonov, S. J Mol Biol 2001 Aug 10;311(2):311-24. Europe PMC
Non-covalent interactions in the crystallization of the enantiomers of 1,7-dioxaspiro [5.5] undecane (olive fly sex pheromone) by enantiospecific cyclo-dextrin hosts, hexakis (2,3,6-tri-O-methyl)-a-cyclo-dextrin and heptakis (2,3,6-tri-O-methyl)-b-cyclodextrin. Makedonopoulou, S., Yannakopoulou, K., Mentzafos, D., Lamzin, V., Popov, A. & Mavridis, I.M. Acta Crystallogr B 2001 Jun;57(Pt 3):399-409. Europe PMC
On the mechanism of biological methane formation: structural evidence for conformational changes in methyl-coenzyme M reductase upon substrate binding. Grabarse, W., Mahlert, F., Duin, E.C., Goubeaud, M., Shima, S., Thauer, R.K., Lamzin, V. & Ermler, U. J Mol Biol 2001 May 25;309(1):315-30. Europe PMC
On the enzymatic activation of NADH. Meijers, R., Morris, R.J., Adolph, H.W., Merli, A., Lamzin, V.S. & Cedergren-Zeppezauer, E.S. J Biol Chem 2001 Mar 23;276(12):9316-21. Europe PMC
Transthyretin stability as a key factor in amyloidogenesis: X-ray analysis at atomic resolution. Sebastiao, M.P., Lamzin, V., Saraiva, M.J. & Damas, A.M. J Mol Biol 2001 Mar 2;306(4):733-44. Europe PMC
The ARP/wARP suite for automated construction and refinement of protein models. Lamzin, V.S., Perrakis, A. & Wilson, K.S. In "International Tables for Crystallography. Volume F: Crystallography of biological macromolecules", Rossmann, M.G. & Arnold, E. (Eds.), Dordrecht, Kluwer Academic Publishers, The Netherlands, pp. 720-722
Apotheosis, not apocalypse: methods in protein crystallography. Lamzin, V.S., Perrakis, A., Bricogne, G., Jiang, J., Swaminathan, S. & Sussman, J.L. Acta Crystallogr D Biol Crystallogr 2000 Nov;56(# (Pt 11)):1510-1 Europe PMC
Current state of automated crystallographic data analysis. Lamzin, V.S. & Perrakis, A. Nat Struct Biol 2000 Nov;7 Suppl:978-81 Europe PMC
Structural basis for substrate specificity differences of horse liver alcohol dehydrogenase isozymes. Adolph, H.W., Zwart, P., Meijers, R., Hubatsch, I., Kiefer, M., Lamzin, V. & Cedergren-Zeppezauer, E. Biochemistry 2000 Oct 24;39(42):12885-97 Europe PMC
Improving the X-ray resolution by reversible flash-cooling combined with concentration screening, as exemplified with PPase. Samygina, V.R., Antonyuk, S.V., Lamzin, V.S. & Popov, A.N. Acta Crystallogr D Biol Crystallogr 2000 May;56 ( Pt 5):595-603 Europe PMC
Accurate protein crystallography at ultra-high resolution: valence electron distribution in crambin. Jelsch, C., Teeter, M.M., Lamzin, V., Pichon-Pesme, V., Blessing, R.H. & Lecomte, C. Proc Natl Acad Sci U S A 2000 Mar 28;97(7):3171-6 Europe PMC
Roles of his205, his296, his303 and Asp259 in catalysis by NAD+-specific D-lactate dehydrogenase. Kochhar, S., Lamzin, V.S., Razeto, A., Delley, M., Hottinger, H. & Germond, J.E. Eur J Biochem 2000 Mar;267(6):1633-9 Europe PMC
Three-dimensional structure of the enzyme dimanganese catalase from Thermus Thermophilus at 1 Å resolution. Antonyuk, S.V., Melik-Adamyan, V.R., Popov, A.N., Lamzin, V.S., Hempstead, P.D., Harrison, P.M., Artymyuk, P.J. & Barynin, V.V. Crystallography Reports 2000 Jan 1 45(1) 105-116
Ab initio solution and refinement of two high-potential iron protein structures at atomic resolution. Parisini, E., Capozzi, F., Lubini, P., Lamzin, V., Luchinat, C. & Sheldrick, G.M. Acta Crystallogr D Biol Crystallogr 1999 Nov;55(11):1773-84 Europe PMC
Protein titration in the crystal state. Berisio, R., Lamzin, V.S., Sica, F., Wilson, K.S., Zagari, A. & Mazzarella, L. J Mol Biol 1999 Oct 1;292(4):845-54 Europe PMC
Crystal structure of the EF-hand parvalbumin at atomic resolution (0.91 A) and at low temperature (100 K). Evidence for conformational multistates within the hydrophobic core. Declercq, J.P., Evrard, C., Lamzin, V. & Parello, J. Protein Sci 1999 Oct;8(10):2194-204 Europe PMC
Experimental observation of bonding electrons in proteins. Lamzin, V.S., Morris, R.J., Dauter, Z., Wilson, K.S. & Teeter, M.M. J Biol Chem 1999 Jul 23;274(30):20753-5 Europe PMC
Automated protein model building combined with iterative structure refinement. Perrakis, A., Morris, R. & Lamzin, V.S. Nat Struct Biol 1999 May;6(5):458-63 Europe PMC
Molecular, crystal and solution structure of a beta-cyclodextrin complex with the bromide salt of 2-(3- dimethylaminopropyl)tricyclo[3.3.1.1(3,7)]decan-2-ol, a potent antimicrobial drug. Perrakis, A., Antoniadou-Vyza, E., Tsitsa, P., Lamzin, V.S., Wilson, K.S. & Hamodrakas, S.J. Carbohydr Res 1999 Apr 30;317(1-4):19-28 Europe PMC
Refinement of triclinic hen egg-white lysozyme at atomic resolution. Walsh, M.A., Schneider, T.R., Sieker, L.C., Dauter, Z., Lamzin, V.S. & Wilson, K.S. Acta Crystallogr D Biol Crystallogr 1998 Jul 1 54 ( Pt 4) 522-546 Europe PMC
Validation tools: can they indicate the information content of macromolecular crystal structures? Dodson, E.J., Davies, G.J., Lamzin, V.S., Murshudov, G.N. & Wilson, K.S. Structure 1998 Jun 15 6(6) 685-690 Europe PMC
The structure of SAICAR synthase: an enzyme in the de novo pathway of purine nucleotide biosynthesis. Levdikov, V.M., Barynin, V.V., Grebenko, A.I., Melik-Adamyan, W.R., Lamzin, V.S. & Wilson, K.S. Structure 1998 Mar 15 6(3) 363-376 Europe PMC
Conserved supersecondary structural motif in NAD-dependent dehydrogenases. Kutzenko, A.S., Lamzin, V.S. & Popov, V.O. FEBS Lett 1998 Feb 13 423(1) 105-109 Europe PMC
Accelerated X-ray structure elucidation of a 36 kDa muramidase/transglycosylase using wARP. Van Asselt, E.J., Perrakis, A., Kalk, K.H., Lamzin, V.S. & Dijkstra, B.W. Acta Crystallogr D Biol Crystallogr 1998 Jan 1 54 (Pt 1) 58-73 Europe PMC
Protein crystal growth in the Advanced Protein Crystallization Facility on the LMS mission: a comparison of Sulfolobus solfataricus alcohol dehydrogenase crystals grown on the ground and in microgravity. Esposito, L., Sica, F., Sorrentino, G., Berisio, R., Carotenuto, L., Giordano, A., Raia, C.A., Rossi, M., Lamzin, V.S., Wilson, K.S. & Zagari, A. Acta Crystallogr D Biol Crystallogr. 1998 May 1;54(Pt 3):386-90. Europe PMC
Who checks the checkers? Four validation tools applied to eight atomic resolution structures. Wilson, K.S., Butterworth, S., Dauter, Z., Lamzin, V.S., Walsh, M., Wodak, S., Pontius, J., Richelle, J., Vaguine, A., Sander, C., Hooft, R.W.W., Vriend, G., Thornton, J.M., Laskowski, R.A., MacArthur, M.W., Dodson, E.J., Murshudov, G., Oldfield, T.J., Kaptein, R. & Rullmann, J.A.C. J Mol Biol 276 1998 Feb 20 276 417-436 Europe PMC
The 1.8 A crystal structure of the dimeric peroxisomal 3-ketoacyl-CoA thiolase of Saccharomyces cerevisiae: implications for substrate binding and reaction mechanism. Mathieu, M., Modis, Y., Zeelen, J.P., Engel, C.K., Abagyan, R.A., Ahlberg, A., Rasmussen, B., Lamzin, V.S., Kunau, W.H. & Wierenga, R.K. J Mol Biol 1997 Oct 31 273(3) 714-728 Europe PMC
The benefits of atomic resolution. Dauter, Z., Lamzin, V.S. & Wilson, K.S. Curr Opin Struct Biol 1997 Oct 7(5) 681-688 Europe PMC
wARP: improvement and extension of crystallographic phases by weighted averaging of multiple-refined dummy atomic models. Perrakis, A., Sixma, T.K., Wilson, K.S. & Lamzin, V.S. Acta Crystallogr D Biol Crystallogr. 1997 Jul 1;53(Pt 4):448-55. Europe PMC
Automated refinement for protein crystallography. Lamzin, V.S. & Wilson, K.S. Methods Enzymol. 1997;277:269-305. Europe PMC
X-ray structure of yeast inorganic pyrophosphatase complexed with manganese and phosphate. Harutyunyan, E.H., Kuranova, I.P., Vainshtein, B.K., Hohne, W.E., Lamzin, V.S., Dauter, Z., Teplyakov, A.V. & Wilson, K.S. Eur J Biochem 1996 Jul 1;239(1):220-8 Europe PMC